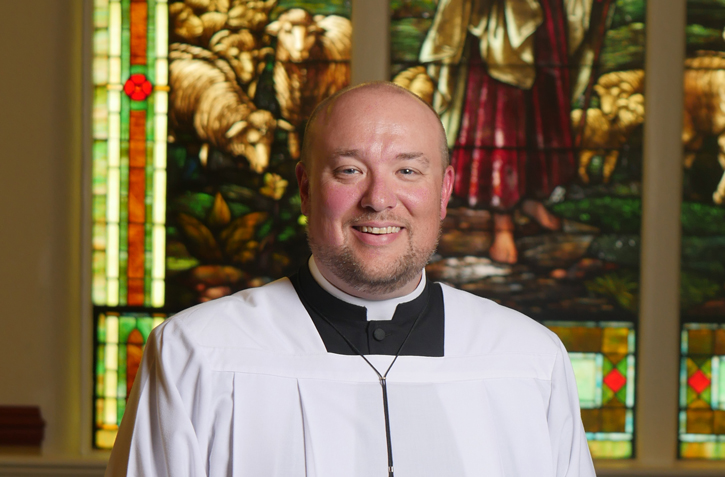 From The Reverend Deacon Kenneth E. Campbell, Jr.
Grace and peace to you from God our Father and the Lord Jesus Christ.
Brothers and Sisters in Christ – In this time of uncertainty and unprecedented change to our daily lives, we are reminded of the one true constant in this world – the love, grace and peace of our Lord and Savior, Jesus Christ.
I know it has been disappointing and frustrating to not gather for weekly Mass nor gather at the table in Holy Communion. These steps are very important in order to honor the request of our commonwealth, and to keep us all as healthy as possible. But, we have been brainstorming some ideas in moving forward, should the ever-changing situation require them. Pastor Nathan will share that information in time.
We see your Facebook posts, and as we conclude two full weeks of practicing social distancing, we are all getting a little stir-crazy. Please continue to check on one another using the phone, social media, texting and instant messaging. Check on the elderly and shut-ins. Remember – the church is NOT closed, ONLY the building. Get outside when you can and enjoy the warming temperatures.
We will continue to gather digitally using Zoom from the comfort of our homes to see one another, chat, laugh and see how everyone is doing. Please consider joining me! Be sure to make yourself some coffee, too!
You can access ZOOM by downloading the app to your phone or tablet (check the App store or Google Play), or by clicking the invitation link on your computer (using your browser) when I advertise a session. You will have to grant it access to your camera and microphone. But, you don't need to create an account – the info below is all you need.
Yes…I too miss seeing our people, enjoying the peace of our wonderfully quiet space, and receiving the body and blood of our Lord. How wonderful it will be when we finally return! I look forward to seeing as many of you as possible this Sunday. Stay safe, and stay healthy. If you need me, Sharyn, or Pr. Nate, let us know!
Much love to you all.
Blessings +